»
---
In the Gallery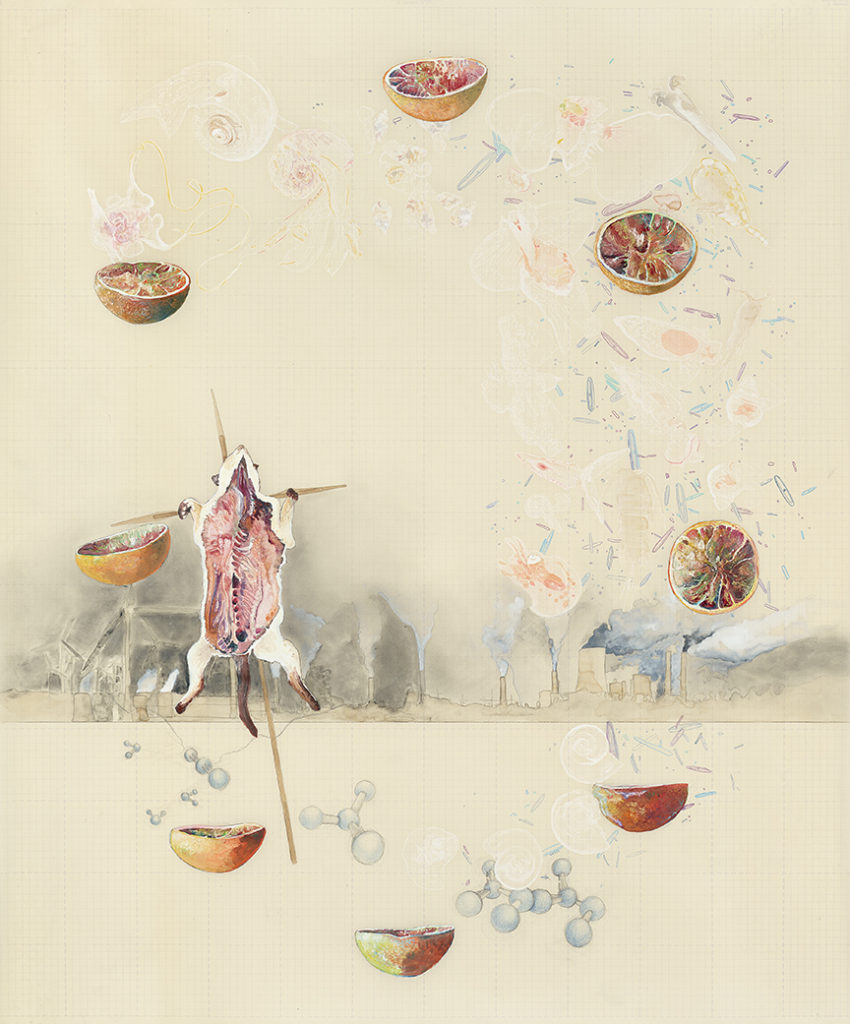 CLIMA: Solo  Artist Series
presents
"Drawing the Anthropocene"
by
Gretchen Sharnagl
Exhibition runs from March 30th through April 29th, 2018
In the Gallery

"Water Paintings"
a solo exhibition of works
created at Hubbard Brook Experimental Forest
by
Xavier Cortada

Exhibition runs from March 30th through April 29th, 2018
On permanent exhibit: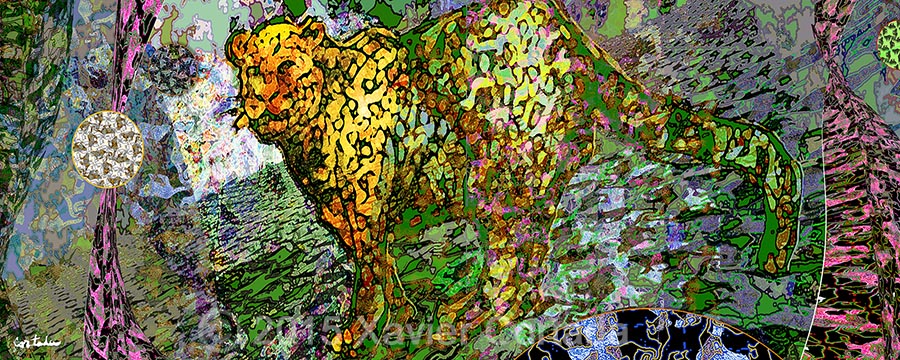 FLORIDA IS… Nature
 by
Xavier Cortada

at
Hibiscus Gallery
Pinecrest Gardens
11000 S.W. 57th Avenue
Pinecrest, FL 33156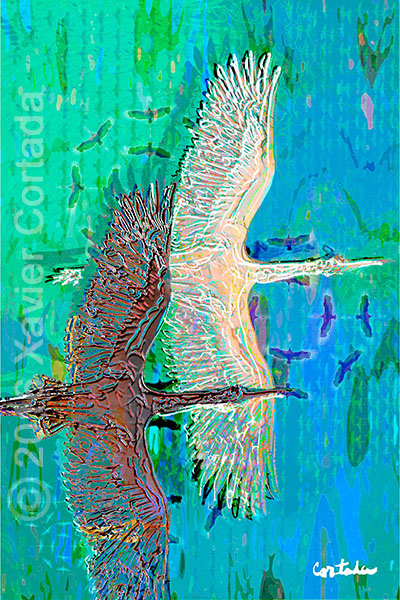 "Florida Is…" by Xavier Cortada
On permanent exhibit at the Hibiscus Gallery in Pinecrest Gardens, Xavier Cortada's "Florida is… Nature"  exhibition serves as a platform for engaging visitors of the botanical garden. Cortada, who serves as Pinecrest Gardens artist-in-residence, portrays Florida's environment to connect viewers with our state's natural beauty.
Conceptualized during Xavier Cortada's residency at the Robert Rauschenberg Foundation Artist Residency in Captiva, Florida, "Florida is…" is an evolving body of work that depicts the natural beauty of Florida.  It asks Floridians to define their state by its actual nature, not by things we do and build to displace it.  Some "Florida is…" works hang as public art in public venues, admonishing viewers to find better ways to coexist with nature.
The project invites participants to capture and share their images and perspectives on the project's online platform. Help others understand and appreciate Florida's natural beauty.  Upload an image of your favorite animal, plant or place to www.floridaisnature.com and tell us why we should all care for it and strive to protect it.  We will share it on our website and social media.  We will also ask you to help us spread the word and get others to see that "Florida is… Nature."
You can learn more about the artist by visiting www.cortada.com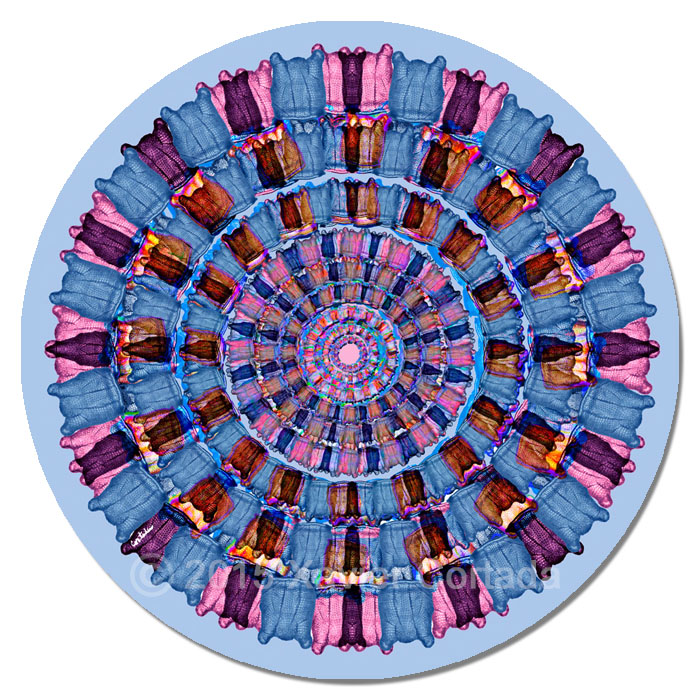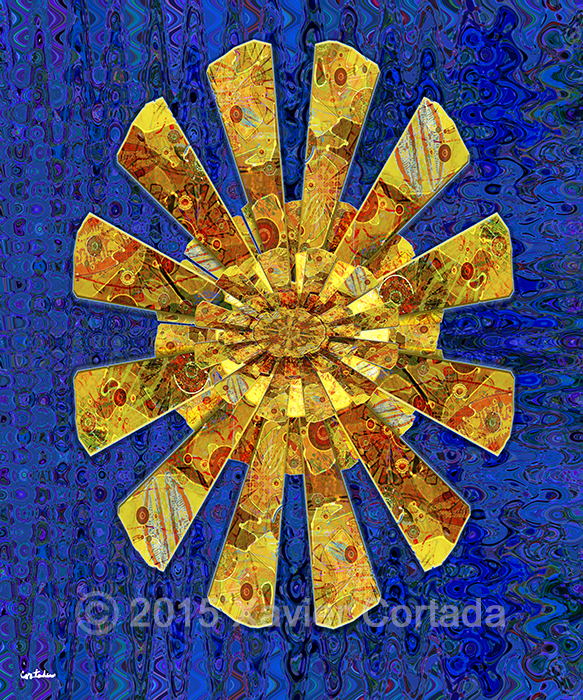 Immediate Past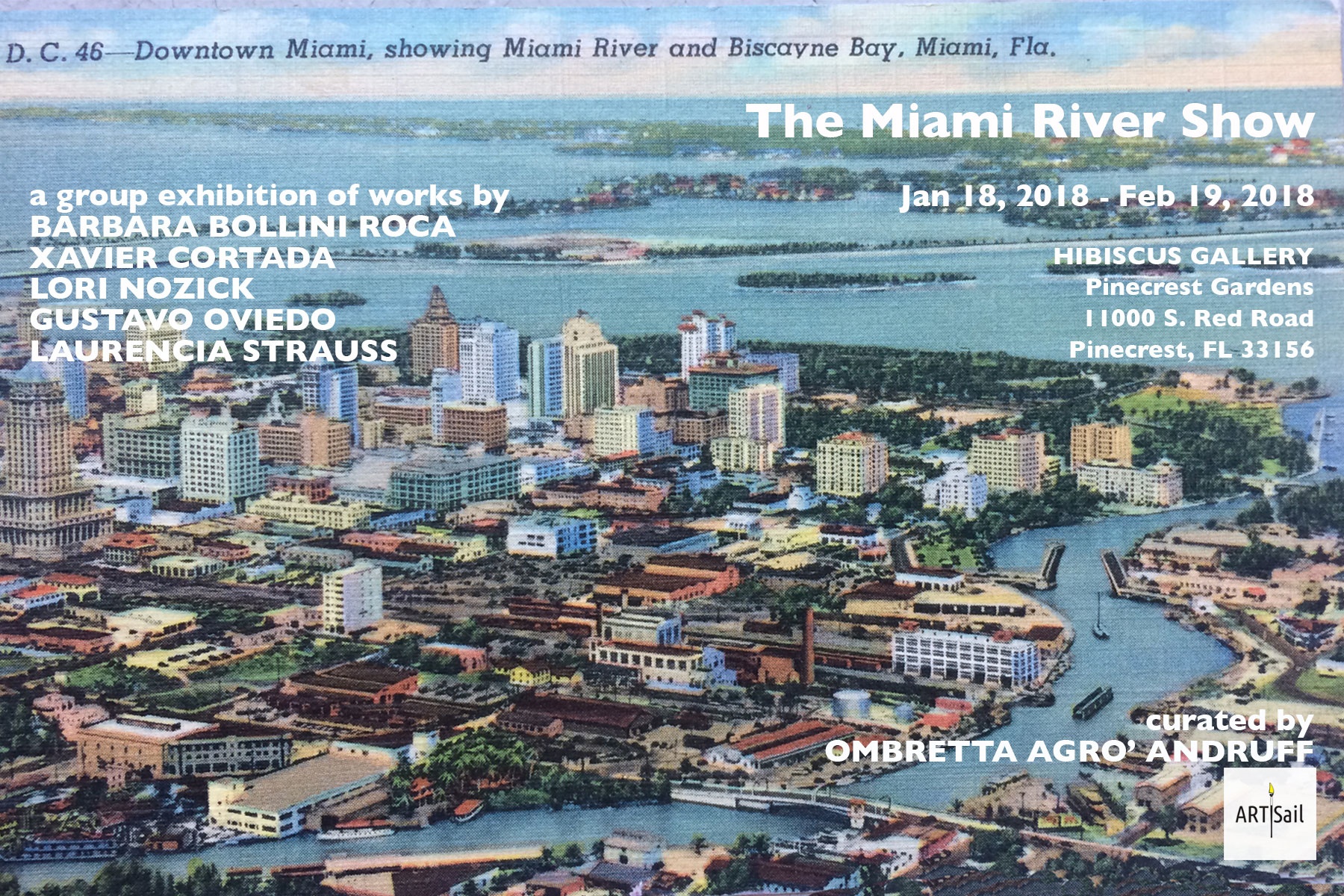 The Miami River Show
a group exhibition of works by
Barbara Bollini Roca
Xavier Cortada
Lori Nozick
Gustavo Oviedo
and
Laurencia Strauss
organized by curator
Ombretta Agro' Andruff | ARTSail
at
Hibiscus Gallery
Pinecrest Gardens
11000 S. Red Road
Pinecrest, FL 33156
Meet the artists in the Hibiscus Gallery  at 12:30 pm on January 21st, 2018 for the exhibition opening.

Exhibition runs through February 19th, 2018
Through video animations, photographs, digital prints, old postcards and nautical charts, the artists in this exhibition explore the river's history, the condition of its waters, and its current hyper-gentrified condition, in which old fisheries, boatyards and "mom-and-pop" eateries cohabit the river's banks with trendy restaurants, sleek yacht clubs, and multimillion-dollar luxury condos.
Laurencia Strauss and Gustavo Oviedo are both investigating the history of the river, using a combination of found postcards, photographs and videos;
Lori Nozick presents collages executed on found maps; while Barbara Bollini pays homage to the river and its inhabitants with a video and short animation. 
Lastly, in collaboration with researchers from the FIU School of Environment, Arts and Society, Xavier Cortada continues his investigation of diatoms (single-celled micro-lgae organisms encased in a silica shell) which are often used by scientists to monitor environmental and water quality conditions, both past and present.
For more information: :https://floridaisnature.com/event/2018miamiriver/
Also in the Gallery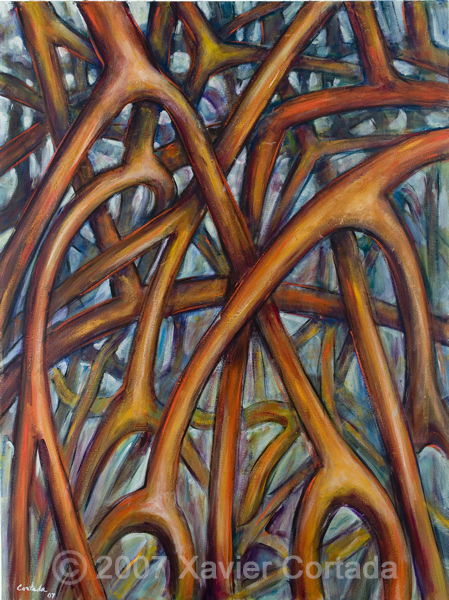 Xavier Cortada, "Mangrove Roots", acrylic on canvas, 48″ x 36″, 2007.
"Mangroves"
a group exhibition of works by

Xavier Cortada

and
Josh Liberman
at
Hibiscus Gallery
Pinecrest Gardens
11000 S. Red Road
Pinecrest, FL 33156
Few organisms rival the mangrove's ability to fill so many diverse roles. They help combat erosion and storm-surge, remove large amounts of carbon from the atmosphere, and serve as a breeding ground and nursery for countless animals. Mangroves fall victim to development as their habitats are replaced by man-made barriers such as sprawling sea-walls and rising condos.
In 2006, Xavier Cortada launched The Reclamation Project, a participatory eco-art project that has engaged thousands of volunteers in the planting of over eight acres of mangroves on Biscayne Bay. Cortada displays mangrove paintings he created a decade ago as he innovated his environmental art practice.
Informed by his studies at the University of Miami Department of Biology, Josh Liberman has photographed elements of nature across five continents. In "Mangroves", he focuses on South Florida's shrinking wetlands, capturing the remnants of an ecosystem that used to hug the entire coastline.

Exhibit runs January 18th through February 19th, 2018
Past
See EPOCH Artist's Statement  | Gallery of Works

You are cordially invited to
EPOCH
a solo show by
Xavier Cortada
at
Hibiscus Gallery
Pinecrest Gardens
11000 S. Red Road
Pinecrest, FL 33156
Exhibit runs November 30th, 2017  through January 14th, 2018
With half of Earth's species now facing the risk of extinction, Xavier Cortada's EPOCH exhibition examines life forms from the past 540 million years and invites the viewer to ponder what future life forms may look like on Planet Earth. This is a relevant conversation, since our species has a huge role in determining the outcome. Indeed, we are the cause of the Sixth Mass Extinction currently underway.
A decade ago, Cortada launched his Endangered World project at the South Pole to bring awareness to the plights of endangered species at every point in the world above.  The project has addressed global biodiversity loss through art installations at the South Pole (2007), North Pole (2008), Holland (2009) and Biscayne National Park (2010) and through online participatory art projects (www.endangeredworld.org).
Learn more at www.cortada.com/event/2017/epoch